Gin Distilleries
We create our gin at two unique distilleries in Scotland's capital city. One is situated in the heart of the West End, the other located at The Biscuit Factory, in the historic gin port of Leith.
We are delighted to announce our Distillery Tasting Experience will be back from the 17th May. Full details and booking information can be found below.
_______________________________________
Distillery & Visitor Centre, Edinburgh West End

1A Rutland Place, Edinburgh, EH1 2AD
In the bustling centre of our home city, the Edinburgh Gin Distillery is a destination unlike any other. It's here that we welcome guests from all over the world to discover more about Edinburgh's historic gin heritage, and explore our atmospheric working distillery.
The Edinburgh Gin Distillery tours are ranked in the top 20 of Edinburgh Visitor Attractions on Tripadvisor, and our boutique 5-Star distillery offers visitors the chance to discover how we make our award-winning gin. We are open 7 days a week, from 9:45am-4:45pm. Advance booking is essential, as once we are fully booked we are unable to talk walk-ins. Please use our online booking system to check availability & reserve your space.
The Biscuit Factory Distillery, Leith
4-6 Anderson Place, Edinburgh EH6 5NP
In 2016, we opened our second distillery at a former biscuit factory in Leith. Here, our custom copper still Gin Jeanie has allowed us to increase our production capacity to create and distill more of our award-winning gins. This is our largest, commercial distillery and currently tours are not offered here.
Our Distillery Experiences
The West End Distillery & Visitor Centre
At the heart of our West End operation are our custom-made copper stills Flora and Caledonia. These allow us to experiment with new recipes, and create a variety of individually distinctive gins. Our Head Distiller has an abundance of botanicals on hand to distill with the finest Scottish grain spirit.
Find out about Edinburgh's rich history of gin production, and discover the science of distilling with a chance to see our copper stills in action. We look forward to welcoming you on a captivating voyage of gin discovery.
Distillery Tasting Experience
We're delighted to open our doors again to a new distillery experience.
A tasting of five gins and gin liqueurs from our award-winning range including a history of gin in the UK and in Edinburgh, with a talk through our distillation and production processes.
The experience will take place in a large space at the distillery bar in view of our stills 'Caledonia' and 'Flora'. Preparation of drinks will be carried out by staff in PPE.
The safety of our visitors and staff are forefront of our mind, please see a video below that details measure we have taken in light of the current restrictions.
You also receive 10% discount on purchases.
Duration approx. 1 hour
Book Now Please note: Each table seats two guests together and so bookings are sold in pairs. Groups larger than this can book in multiple bookings of two, however the furniture has been positioned in a safe 2 meter distance and will not be rearranged.
Wee Wonders Online Tasting
We've had to cancel the tasting sessions at our distilleries due to new Covid-19 measures, but there is no need for the tastings to stop. Our Wee Wonder Online Tastings are back!
Join us for an evening of live tastings from the comfort of your own home. With this tasting pack for two we will be guiding you through a selection of our wonderous gin range, with an introduction into the production, botanicals and history of our gins while you sip.
With each booking you'll also receive a Wee Wonders tasting pack suitable for two people in advance of your chosen session.
The tasting pack includes:
5 x 50ml Edinburgh Gin miniatures (Cannonball, Seaside, and Classic, our full-strength Rhubarb and Ginger gin, and our delightful Pomegranate & Rose liqueur)
2 x 200ml bottles of premium mixers
A ticket to an online tasting session, on Zoom, with a member of our distillery team
Priced at just £40 per tasting, your Wee Wonders tasting pack for two will give you a chance to enjoy our gins that are brimming with natural flavour.

For full info and FAQs click here.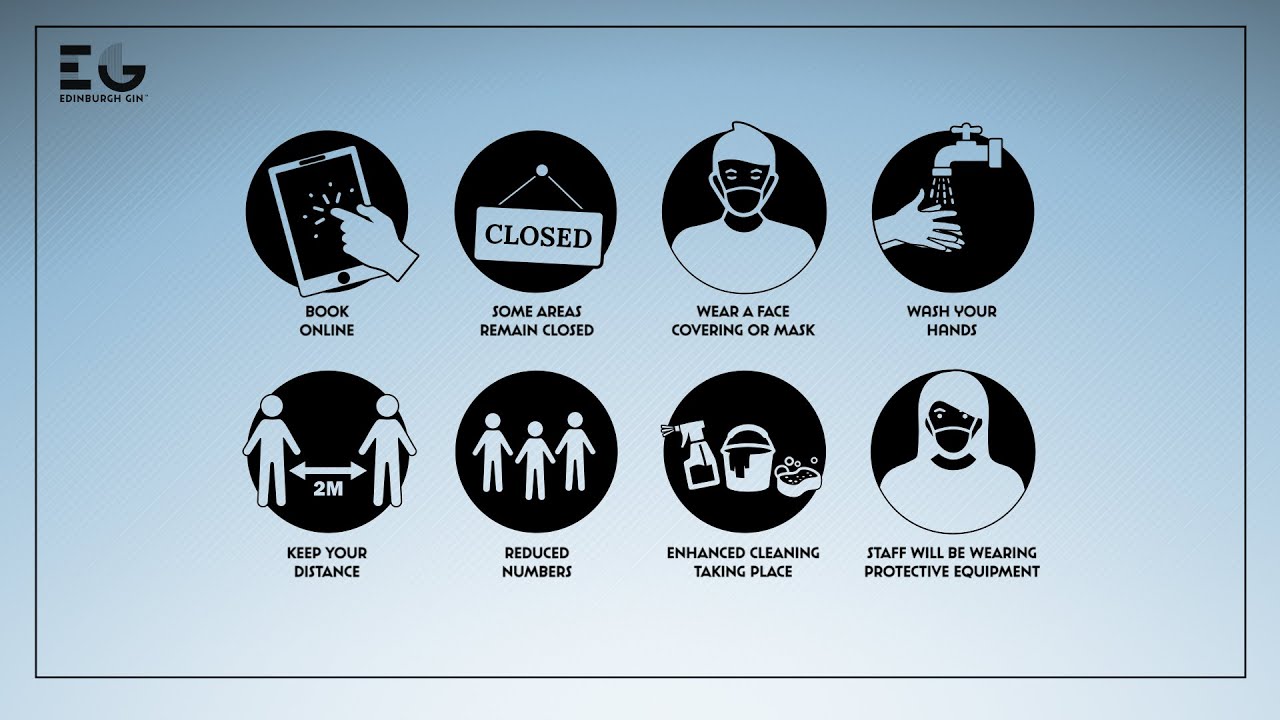 Accessibility & General Information
This event is suitable for over 18s only. The distillery uses the challenge 25 policy, so be prepared to show ID. As you will be partaking in a tasting it is not suitable if you are driving to the distillery.
Due to the historical nature of the building we are unable to provide wheelchair access. There are 16 steps leading into the distillery. Once inside the experience is seated and there are no steps. Please advise us on the booking form if there are any accessibility requirements."
Visitors will be asked to wear masks on arrival and while moving around, and there will be dedicated hygiene stations, with readily available hand sanitizer, around the site. And staff will be wearing PPE, allowing them to engage with guests while sharing the wonder-filled tales of Edinburgh Gin and its award-winning range.
We will no longer have an inside waiting area, so please arrive around 5 minutes before your tour. You will be asked to wait outside if you arrive earlier than this.
Guests will be asked to wash their hands upon arrival, and toilets will be cleaned regularly.
Terms & Conditions
If you have an issue with your booking please contact us by email only on bookings@edinburghgin.com. We do not take phone bookings or alter any bookings by phone.
We reserve the right to refuse the sale of alcohol under the terms of the Licensing (Scotland) 2005 Act.
We reserve the right to alter the content, times and prices of our experiences. Please note, Heads & Tales Bar is operated as a separate business. They can be contacted directly on +44 (0) 131 656 2811 or by email on info@headsandtalesbar.com